Advent and Christmas 2021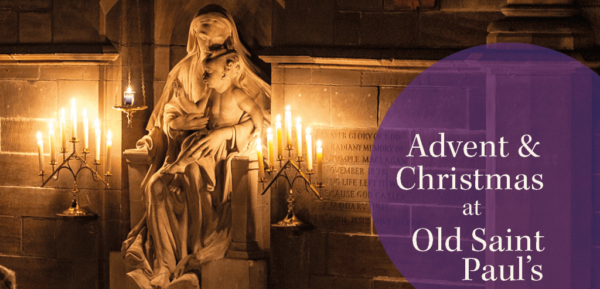 You are warmly welcomed to join us for the seasons of Advent and Christmas as we prepare to celebrate the birth of Jesus, the Word of God made flesh.
Links to online services will appear on our Online Resources page on the day of the service.
Visit our Online Resources page
We have published our Lectionary for 2021-2022 which you are welcome to use throughout the coming year for daily readings, psalms, offices and feasts.
Visit the Calendar and Lectionary page
Advent
On each Sunday of Advent, we will be lighting a candle in the Advent wreath at Sung Mass in anticipation of Christmas.
Advent Carol Service
On the First Sunday of Advent, 28 November, we will be holding our Advent Carol Service at 6:30pm. A feast of readings, poetry and music for the season, with a collection for the Scran Academy.
Find out more about the Scran Academy
Evensong and Benediction with Lucernarium will be held on Sunday evenings at 6:30pm until Candlemas 2022.
Advent Compline
Sung Night Prayer in traditional language will be held at 9:00pm on Tuesdays in Advent:
30 November
7, 14 and 21 December.
A recording of this service and a copy of the liturgy booklet can be found on our Online Resources page.
Christmas
Our Christmas services are as follows.
Sunday before Christmas – 19 December
Nine Lessons and Carols. Starts at 6:30pm for approximately one hour. We will take a collection for The Yard.
Christmas Eve – 24 December
Christmas Crib – Children's Service. In person only, starting at 11:00am.
Midnight Mass. Starts at 11:30pm.
Christmas Day – 25 December
High Mass of Christmas. Starts at 10:30am.
Sunday after Christmas – 26 December
High Mass for the First Sunday after Christmas. Starts at 10:30am. Said Evening Prayer will be held at 6:30pm.
We look forward to welcoming you at our services, whether as part of our in-person or online congregation.