Charity Burns Supper & Ceilidh 2023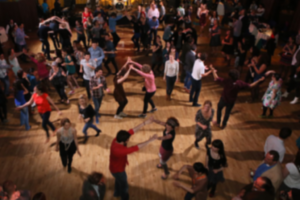 Join us on Friday 27 January 2023 for a traditional Burns Supper and Cèilidh!
Starting at 18:30, the event will include a three course meal, speeches, poetry, songs and dancing to commemorate the life and works of Robert Burns, Scotland's most celebrated poet.
What happens at a Burns Supper?
We will offer a traditional Burns Supper three course meal of:
Starter: Cock-a-leekie soup OR potato and leek soup (Ve)
Main course: Haggis OR vegan haggis with neeps, tatties and (optional) whisky cream sauce
Dessert: Cranachan (V) or vegan trifle (Ve)
This includes a welcome drink. A bar with alcoholic and soft drinks will be available for purchase
throughout the evening.
The meal is interspersed with light-hearted speeches and entertainment, including
The Address to the Haggis, accompanied by a Piper
The Immortal Memory
The Toast to the Lassies and Reply
Songs or poems by Robert Burns.
The Supper is followed by a Cèilidh. A Cèilidh ('kay-leeh') is a Scottish folk dance, with mostly energetic group or paired dances, led by a live band and caller.
The caller will guide you through the steps for the dances – so beginners are welcome.
This will start in the church shortly after the meal ends, with the event finishing at 11:00pm.
Tickets
This event has sold out.
Who are we fundraising for?
We will be raising money for a new heating system at the church, and for food initiatives run by our neighbours at The Crannie.
Any questions?
If you have questions about this event, you can contact pwarden@osp.org.uk to find out more.