Festival season at Old Saint Paul's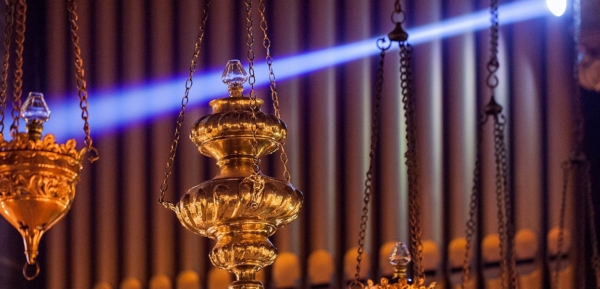 A feast of music from Old Saint Paul's awaits! Our Festival Masses will also run as usual on Sundays in August at 10:30am – please visit the Events page for more details.
All events are subject to Scottish Government guidelines. There is guidance from the Scottish Episcopal Church (SEC) on attending services safely.
Visit the ScotGov COVID-19 pages
Edinburgh Sacred Arts Festival 15-21 August
Our Director and Assistant Director of Music are both performing at the Sacred Arts Festival this year. All events take place at St Vincent's Chapel, Stockbridge.
For details and tickets, please visit the Sacred Arts Festival website.
Visit the Sacred Arts Festival website
Monday 16 August – Messiaen's Quartet for the End of Time
Featuring our Assistant Director of Music Calum Robertson, on clarinet and as Director.
1:15 – 2:15pm | Tickets £15.00
Tuesday 17 August – 'The Art of Hymns'
Featuring Dr John Kitchen MBE, Edinburgh City Organist and Director of Music at Old Saint Paul's.
1:15 – 2:15pm | Tickets £8.00
Summer concerts in Old Saint Paul's
We are holding a series of concerts in late August as part of the Edinburgh Festival Fringe. You can attend in person or watch online via our broadcasting system.
All concerts start at 8:00pm and are held at Old Saint Paul's, Jeffrey Street, Edinburgh. You can find out about accessing the church on our Accessibility page.
Tickets to attend in person and online can be bought on Eventbrite. If you attend in person you can also pay on the door, by card only, if there are spaces left.
Tickets £5.00 in person | £3.00 online
Tickets are subject to a small service charge from Eventbrite.
Wednesday 18 August – Fairy tales and magical beings
Inspired by the world of the 'little people', a programme of music by Purcell, Britten, Ronald Stevenson and others.
Sally Carr (soprano) | Calum Robertson (piano)
Thursday 19 August – Music for cello and piano
Fauré, Dvorak, Schumann and Nadia Boulanger.
William Harris (cello) | George Gillow (piano)
Friday 20 August – 18th century masterpieces
Music by Purcell, Handel, Telemann and Mozart's Exsultate Jubilate.
Jenny Nex (soprano) | Lucy Whitehead (recorder) | John Kitchen (harpsichord)
Wednesday 25 August – Scottish choral music
A concert of celebratory music, including the Gloria from Robert Carver's L'homme armé mass.
The choral group Sang Scule, directed by James Hutchinson.
Thursday 26 August – Music for clarinet and piano
A programme to feature Ruth Gipps' clarinet sonata and The Kelpie of Corrievreckan, as well as works by Clara Schumann and Germaine Tailleferre.
Calum Robertson (clarinet) | Anna Michels (piano)
Friday 27 August – Music by Couperin, Purcell and Marais
Annemarie Klein (recorders) | Ruth Slater (baroque violin) | John Kitchen (harpsichord)