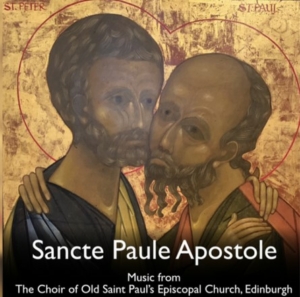 Old Saint Paul's Choir is delighted to announce the release of their recording "Sancte Paule Apostole" Autumn 2023.
The recording is available in CD Format. If you would like to order a CD you can place your order here: OSP Choir Sancte Paule- pre order | Old Saint Paul's Episcopal Church (sumupstore.com)
For a more information about the music presented on the disc listen to:
Dr John Kitchen MBE Organist and Director of Music at Old Saint Paul's Church introduces the recording:
"Our new CD is intended to represent a range of repertoire that we sing regularly, Sunday by Sunday in the services of Mass in the morning, Evensong followed by Benediction."
Calum Robertson, Assistant Director of Music at Old Saint Paul's Church  talks about the solo Clarinet Piece, From Galloway.
Dr Paul Newton-Jackson, Scholar in Residence, introduces his edition of Morales Mass for S. Paul.
Saxophonist, cellist, alto, academic Rowan Hawitt tells us about the new edition of works by Johannes Flamingus, a world premiere recording.
John Hager ( OSP Parishioner)
"The skilfully recorded, wonderfully curated, and splendidly rendered selection takes one through a High Mass, Lucernarium, Evensong, and Benediction at Old Saint Paul's–all shot through with a robust dedication to the patron, Saint Paul the Apostle (shown with Saint Peter in their embrace on the cover in an icon by dear parishioner and iconographer Paul Martin, now deceased).
Old Saint Paul's as a place and a community (and the two are inextricably intertwined) changed my life, and the music in its liturgical expression was no small part of that. Dr John Kitchen's organ playing–showcased beautifully here–is without compare and finds, for me, its most enchanting and spiritual expression in the hymns and psalm accompaniments on the CD; some indeed accompanied by John, others by the brilliant Calum Robertson, assistant director.
And we cannot forget the inclusion of Widor's delicious 'Tantum ergo', which I first heard at an Easter Day Evensong, through the haze of the day's festivities, transfixed by the luscious, gradual crescendo, lulled evermore to the little monstrance on the altar by the swell of passionate voices and the faithful Willis organ."
Assistant Director of Music Calum Robertson spoke on the last 15mins of BBC Radio Scotland's Sunday morning programme about our choirs new CD.
https://www.bbc.co.uk/sounds/play/m001s49j…
Apart from buying the CD you can also listen on Spotify
https://open.spotify.com/album/0582Nu2PqypbPHJH8TBMOq…