COVID-19: Staying connected as the Body of Christ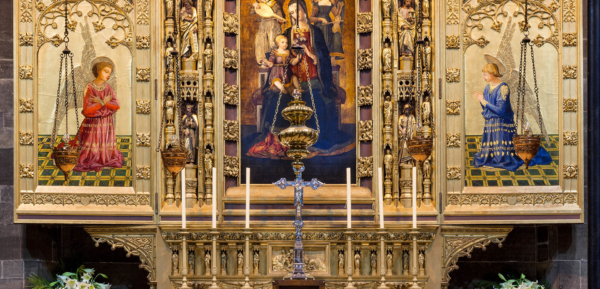 Dear Sisters and Brothers,
You may have heard already that the College of Bishops of the Scottish Episcopal Church has issued guidance that we should suspend all public worship in response to the increasing threat of infection from the coronavirus. It is with deep sadness that we suspend all public worship. We do so out of care for each other, and especially for the most vulnerable. As the community of Old Saint Paul's, we will continue to pray, to offer the Holy Eucharist, to offer pastoral care and to continue our spiritual lives, albeit in very different ways than we are used to. Here are some of the ways you can continue to be part of our worshipping community.
Sunday services
If you can, please join us live online for the celebration of Mass each Sunday at 10.30am. You can take part by praying along with us on the Online resources page or on Facebook. We will also be broadcasting the audio from this service live by telephone conference for those who do not have access to the internet. If you know of anyone who would like to telephone in, please contact the Rector (see Pastoral Care below).
At 6.30pm on Sundays, we will also offer a livestreamed opportunity for devotions before the Blessed Sacrament for 30 minutes.
The Daily Office
Although we cannot offer morning prayer in public, I will do so at 8:00am from Monday to Friday in church which will be streamed on Facebook Live on the OSP page. Please be assured of my prayers for all of you each day, and please pray for each other. You can follow Daily Prayer online.
A pre-recorded service of Sung Compline (Night Prayer) will be available on the Online resources page from Friday 20 March. Please join in at home at 9pm daily, using this downloadable booklet. On Saturday evenings, it is traditional to read the Gospel passage for the following day before Compline begins.
Prayer and reflection
I will offer spiritual reflections each day on my own blog. Please feel free to comment and engage.
We are unable to keep the church building open for prayer, but please do continue to pray for each other and to use this season of Lent as an opportunity for reflection and meditation.
Pastoral care
Please keep in touch by phone or email, and please let me know if there is anyone you are concerned about. My email address is rector@osp.org.uk and my mobile number is 07967 411884.
We would like to offer practical help to anyone who needs it. Please contact me if you need or can offer help – like shopping – for those who are in isolation.
The situation we face will undoubtedly continue to change and we will respond to these changes as they happen. Whatever happens, we turn in trust to the God in whom is our life, our hope and our strength.
With my love and prayers,
Fr John