'Still in the City': What it's about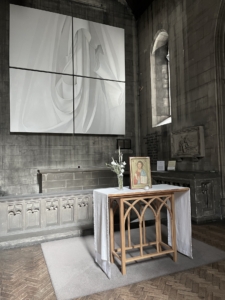 There was a great deal of interest in Fr John's talk about Still in the City with about 40 people gathering in the hall after Mass on Sunday, October 15 to hear what it was about.
The title itself came about after Fr John heard Alison Watt, the artist of 'Still' in the OSP Memorial Chapel, describe the thinking behind the painting to a group of visitors and her reason for choosing the specific spot in Old Saint Paul's to display it. The double entendre very nicely called up several aspects  of the title which Fr John and the vestry thought fit what we want to offer in our outreach:
Seeking God in Stillnes
Offering Stillness in the midst of Life's Storms
and we are Still here for you – a place of worship and sanctuary continuously since 1689!
Several areas have been identified that we wish to address. We should offer:
A Worshipping Community – high quality, accessible and inclusive liturgy
A Sustainable Community – working towards Net Zero
A Creative Community – engaging with the arts
A Gathering Community – bringing people together to make a difference
A Dispersed Community – attending to our line and at home community
A Nourishing Community – offering food and hospitality
There was a lot of discussion and several suggestions were made, in particular that we should add being 'a learning community' to the list of targets.
A revised version of the summary will be produced in due course.